Foam Fire Extinguisher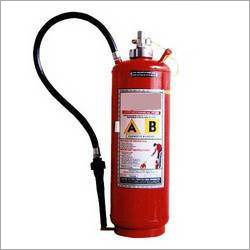 Foam Fire Extinguisher
Product Description
A Foam Fire Extinguisher is a tool used to extinguish a fire. This gadget, sometimes known as an extinguisher, is used to put out fires. The fire extinguishers have a tube or one bottle made of steel that stores a substance inside the fire extinguisher, which is preserved at Pressure. When the valve is open the substance is expelled through a hose or nozzle. Foam extinguishers are water-plus foam tanks fired by compressed nitrogen. They function by suffocating the fire and applying a thin layer of foam over a fire to isolate the fuel from the oxygen. Foam extinguishers also aid in the absorption of heat since the cold foam they release contains a huge quantity of water. Foam extinguishers are water and foam tanks propelled by compressed nitrogen.

Foam Fire Extinguisher
Suitable for class a & b fires involving flammable liquid, petroleum products or where the blanketing effect is essential
Capacity (Ltrs.)

BIS Spec.

Discharge
Time (Sec.)

Jet Length
(Mtrs.)

Test Pressure
kgf/Cm2

9 Ltrs..

10204

60-80

6

30

Mechanical Foam (AFFF)
We are suppliers Fire Extinguishers of Safex Fire Extinguisher, Minimax Fire Extinguisher, Lifeguard Fire Extinguisher,Unitex Fire Extinguisher, Lightex Fire Extinguisher, Omex Fire Extinguisher, Falcon Fire Extinguisher and other ISI, UL and FM Listed Fire Extinguisher.

Type: Water CO2 Type Fire Extinguisher, CO2 Fire Extinguisher
Specifications:
| | |
| --- | --- |
| MODEL | Axis AFFF-09 |
| Capacity (Ltr.) | 9 |
| Anti-Corrosive Inhibitor | Epoxy Polyester Powder Coating |
| Conforming IS Code | 15683 |
| Type of Extinguisher | Constant Pressure/Gas Cartridge |
| Type of Extinguisher Media | Water & AFFF IS 4989 |
| Expellant | Pressurized with N2 gas/90gm/120gm Gas Cartridge |
| Min. Effective Discharge (%) | 95 |
| Min. Jet Length (mtrs.) | More than 2 mtr. |
| Discharge Time (Sec.) | More than 13 sec. |
| Hydraulic Test Pressure (kgf/cm2) | 35 |
| Operating Position | Upright |
| Charged Pressure(kgf/cm2) | 15 |
| Operating Temperature Range(oC) | 0 to(+)55 |
| Operating Valve | Squeeze Grip Type with Discharge hose and nozle |
| Fire Rating | 3A, 55B |
Trade Information
Sample costs shipping and taxes has to be paid by the buyer

As per Buyer Requirement